You are here
Energy Conservation
Music City Center was designed to consume 20 percent less energy overall. The exterior features roof overhangs and vertical shading to reduce solar impacts on interior temperature regulation. Low emissivity glass helps insulate the building. High-performance HVAC systems utilize low-velocity fans that reduce both heating and cooling loads. Occupancy sensors, photo sensors, and dimmable ballasts, as well as the use of LED lightbulbs, reduce lighting demand. State-of-the-art control systems also assist in maximizing heating, cooling, and lighting efficiency.
In addition to reducing energy consumption, the facility includes an array of 845 solar panels, which generates as much as 343,000 kWh of renewable energy annually.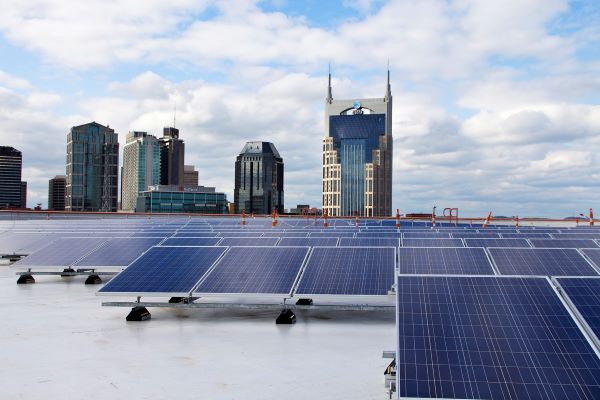 VIDEO: In spring 2022, Music City Center replaced its 845 solar panels to increase solar power generation. 
Music City Center also offers electric vehicle (EV) charging stations on each level of the facility's three-level parking garage. While the stations generate electricity, the vehicles charged by the stations produce zero tailpipe emissions, dramatically lowering smog and greenhouse gas emissions thereby providing cleaner, healthier air.
Resources

MCC Offers Blink Car Charging