You are here
MUSIC CITY CENTER WINS IAVM VENUE EXCELLENCE AWARD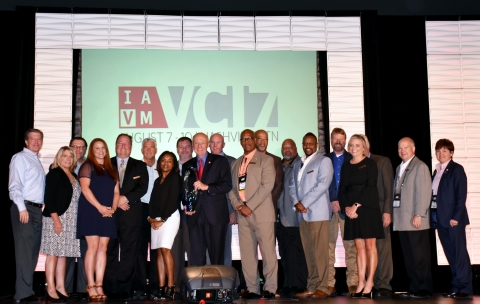 MUSIC CITY CENTER WINS IAVM VENUE EXCELLENCE AWARD
FOR IMMEDIATE RELEASE
August 9, 2017
NASHVILLE, Tenn. – The Music City Center was named the 2017 Venue of Excellence Award Winner in the Convention Center Category today at the International Association of Venue Managers (IAVM) 2017 Awards Luncheon. The Awards Luncheon was part of IAVM's annual conference, VenueConnect, which took place at the Music City Center this week.
The Venue Excellence Awards, hosted each year by IAVM, honor exceptional venues and professionals in several categories. The Venue Excellence Awards recognize venues of any type within the membership which demonstrate excellence in the management and operation of public assembly venues. 
"It is incredibly gratifying to be honored for our efforts by the industry's leading organization, IAVM, while hosting them here in Nashville," said Charles Starks, President/CEO of Music City Center. "We are so proud to have won the Venue Excellence Award and know this would not have been possible without our team members, customers and local community."
VenueConnect brings together professionals from a spectrum of public assembly venues including arenas, convention centers, amphitheaters, fairgrounds, performing arts centers, stadiums, universities, and more. Over 2,000 people traveled to Nashville this week for the four-day conference which will conclude tomorrow.
###
About the Music City Center
The Music City Center, Nashville's convention center, features a 353,143 square foot exhibit hall, the 57,500 square foot Karl F. Dean Grand Ballroom, and an 18,000 square foot Davidson Ballroom. The building includes an art collection featuring local and regional artists, a covered three-level parking garage with 1,800 spaces, and is LEED Gold certified. The Nashville Songwriter's Hall of Fame is also located inside the Music City Center at the corner of 6th Avenue and Demonbreun.