You are here
MUSIC CITY CENTER WELCOMES PCMA CONVENING LEADERS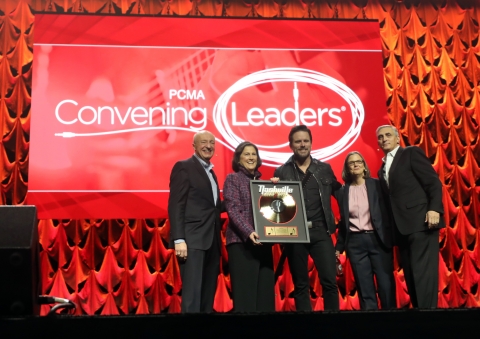 MUSIC CITY CENTER WELCOMES PCMA CONVENING LEADERS
FOR IMMEDIATE RELEASE
January 5, 2018
NASHVILLE, Tenn. – The Music City Center is preparing to host the 2018 PCMA Convening Leaders conference which will begin Sunday evening. The three-day conference is expected to bring over 4,500 leaders in the event industry to Nashville.
The Professional Convention Management Association (PCMA) is the world's largest network of Business Event Strategists with almost 7,000 members and an audience of more than 50,000. Its members are largely made up of decision-makers from various associations, making this a critical opportunity to showcase all that Nashville has to offer as a convention destination.
"We are so excited to welcome PCMA to the Music City Center for the first time. This is the perfect opportunity to show potential customers the world-class convention destination Nashville has become and expand future sales efforts," said Charles Starks, President/CEO of Music City Center. "Many of PCMA's attendees have either not been to Nashville in many years or have never visited at all, and we can't wait to show them how the city has grown."
The Music City Center also announced it hosted 173 events with 181,926 attendees during the first half of fiscal year 2018, generating 86,408 room nights for a total of $99.8 million in direct economic impact. Tax collections continue to outperform expectations, and the Music City Center portion of tax collections was up 56.34 percent year over year for October, with total year-to-date tax collections up 19.52 percent over fiscal year 2017.
###
About the Music City Center
The Music City Center, Nashville's convention center, features a 353,143 square foot exhibit hall, the 57,500 square foot Karl F. Dean Grand Ballroom, and an 18,000 square foot Davidson Ballroom. The building includes an art collection featuring local and regional artists, a covered three-level parking garage with 1,800 spaces, and is LEED Gold certified. The Nashville Songwriter's Hall of Fame is also located inside the Music City Center at the corner of 6th Avenue and Demonbreun.