You are here
MUSIC CITY CENTER REACHES $1 BILLION IN ECONOMIC IMPACT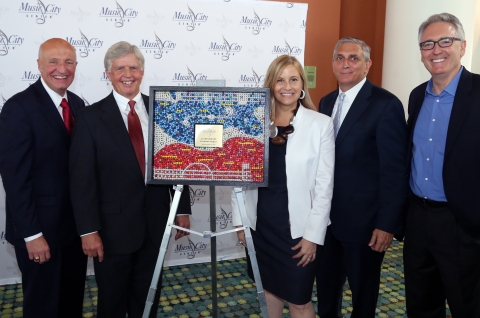 MUSIC CITY CENTER REACHES $1 BILLION IN ECONOMIC IMPACT
FOR IMMEDIATE RELEASE
June 22, 2016
NASHVILLE, Tenn. – The Convention Center Authority announced this morning that the Music City Center has generated $1 billion in direct economic impact for the city in its first three years open.
Since opening in May 2013, the Music City Center has hosted 961 events with 1,929,843 attendees, generating over $1 billion in direct economic impact. On hand to make the announcement this morning was Mayor Megan Barry, Marty Dickens, Chairman of the Convention Center Authority, and Joe Lamond, President and CEO of the National Association of Music Merchants, longtime Nashville and Music City Center customer.
"This is a true testament to what is happening here in Nashville and all the work that has gone in to making this city a great destination for meetings and conventions," said Charles Starks, President/CEO of the Music City Center. "Our vision from the beginning was for the Music City Center to have a positive economic impact on the city of Nashville and watching that vision come to fruition in the first three years open is incredibly gratifying."
###
About the Music City Center
The Music City Center, Nashville's convention center, features a 353,143 square foot exhibit hall, the 57,500 square foot Karl F. Dean Grand Ballroom, and an 18,000 square foot Davidson Ballroom. The building includes an art collection featuring local and regional artists, a covered three-level parking garage with 1,800 spaces, and is LEED Gold certified. The Nashville Songwriter's Hall of Fame is also located inside the Music City Center at the corner of 6th Avenue and Demonbreun.