You are here
MUSIC CITY CENTER INSTALLS ELECTRIC VEHICLE CHARGING STATIONS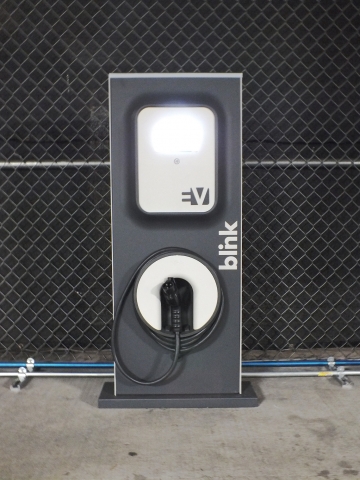 MUSIC CITY CENTER INSTALLS ELECTRIC VEHICLE CHARGING STATIONS
FOR IMMEDIATE RELEASE
July 14, 2016
NASHVILLE, Tenn. – The Music City Center announced today the installation of nine electric vehicle (EV) car charging stations in its three-level garage.
The new Blink Level 2 EV chargers are able to rapidly recharge electric cars and accept payment with a major credit card via the Blink InCard, Blink mobile application or Blink customer support. Blink's free membership offers drivers discounted charging fees on select public electric vehicle chargers on the Blink network. Drivers can become a Blink member and pinpoint Blink charging locations through the Blink mobile application or www.blinknetwork.com.
The Music City Center also recently retrofitted all the light fixtures in the 900,000 square foot garage with the KOBI Electric T8 LED lamp. These lights will reduce overall energy usage by 70 percent, saving an estimated $48,500 annually. The project was partially paid for through a grant from TVA's Energy Right Program.
"We've made sustainability and energy reduction a top priority since day one and we are committed to doing everything in our power to reduce our carbon footprint," said Charles Starks, President/CEO of the Music City Center. "Both the LED lights and the charging stations will further our commitment to environmental stewardship while enhancing the appearance of our garage."
The Authority also voted this morning to re-elect Marty Dickens as Chair of the Convention Center Authority for this coming fiscal year. Vonda McDaniel was re-elected as Vice-Chair and Mona Lisa Warren was re-elected as Secretary/Treasurer.
###
About the Music City Center
The Music City Center, Nashville's convention center, features a 353,143 square foot exhibit hall, the 57,500 square foot Karl F. Dean Grand Ballroom, and an 18,000 square foot Davidson Ballroom. The building includes an art collection featuring local and regional artists, a covered three-level parking garage with 1,800 spaces, and is LEED Gold certified. The Nashville Songwriter's Hall of Fame is also located inside the Music City Center at the corner of 6th Avenue and Demonbreun.