You are here
MUSIC CITY CENTER AWARDED GOVERNOR'S ENVIRONMENTAL STEWARSHIP AWARD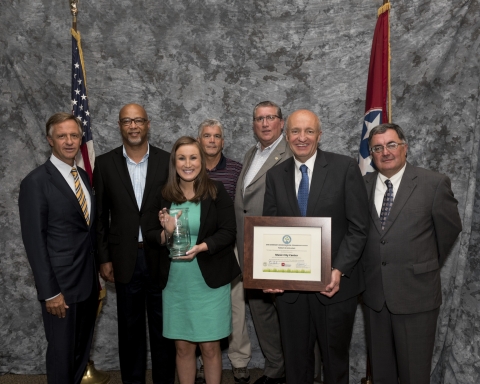 MUSIC CITY CENTER AWARDED GOVERNOR'S ENVIRONMENTAL STEWARSHIP AWARD
FOR IMMEDIATE RELEASE
June 8, 2016                                                                                       
NASHVILLE, Tenn. – Tennessee Gov. Bill Haslam and Tennessee Department of Environment and Conservation Commissioner Bob Martineau today announced the winners of the 2016 Governor's Environmental Stewardship Awards. Music City Center was named the 2016 Governor's Environmental Stewardship Award recipient in the Pursuit of Excellence category.
"Since opening, we have strived to incorporate sustainability into all aspects of our operations," said Charles Starks, President/CEO of the Music City Center. "We are incredibly honored to receive this award and be recognized for the work we do daily to reduce our environmental footprint."
The Music City Center was awarded the Governor's Environmental Stewardship Award in the Building Green Category in 2013 and received LEED Gold Certification for New Construction in 2014. Since then, the MCC has continued to make sustainability a top priority in operations and implemented a number of programs to reduce energy and water usage. The building also has an extensive recycling program that diverts hundreds of tons from the landfill, donates leftover food to local community partners and composts all other inedible leftovers.
###
About the Music City Center
The Music City Center, Nashville's convention center, features a 353,143 square foot exhibit hall, the 57,500 square foot Karl F. Dean Grand Ballroom, and an 18,000 square foot Davidson Ballroom. The building includes an art collection featuring local and regional artists, a covered three-level parking garage with 1,800 spaces, and is LEED Gold certified. The Nashville Songwriter's Hall of Fame is also located inside the Music City Center at the corner of 6th Avenue and Demonbreun.