You are here
MUSIC CITY CENTER ANNOUNCES VENDOR OF EXCELLENCE AWARD Winner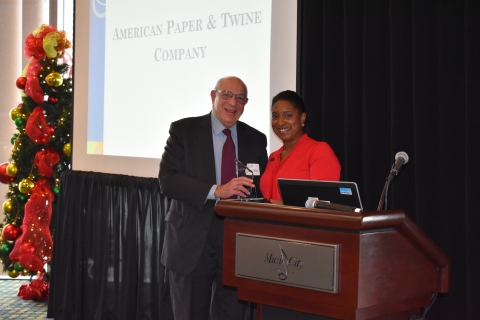 MUSIC CITY CENTER ANNOUNCES VENDOR OF EXCELLENCE AWARD
FOR IMMEDIATE RELEASE
December 7, 2017
NASHVILLE, Tenn. – This week the Music City Center presented the annual Vendor of Excellence Award to longtime partner, American Paper & Twine Co.  The award recognizes a deserving vendor who displays outstanding achievements in service and commitment to the Music City Center.
The award was presented at the Purchasing/DBE Appreciation Breakfast, where the Music City Center also announced the most recent DBE participation numbers. In the first quarter of fiscal year 2018, the Music City Center spent 34.8 percent of the operating expenses, totaling approximately $410,253, with minority, women-owned and small businesses.
"Working with DBE vendors has been important to the Music City Center since our opening, and our number of vendors has continued to grow," said Charles Starks, President/CEO of Music City Center. "It's amazing to see what our DBE team here has done and the relationships we've built along the way."
The Music City Center also announced it generated over $12 million in direct economic for the city in November. The Music City Center hosted 27 events with 43,229 attendees last month, generating 9,787 room nights for a total of $12.5 million in direct economic impact. Tax collections continue to outperform expectations, and the Music City Center portion of tax collections was up 24.11 percent year over year for September, with total year-to-date tax collections up 14.11 percent over fiscal year 2017.
###
About the Music City Center
The Music City Center, Nashville's convention center, features a 353,143 square foot exhibit hall, the 57,500 square foot Karl F. Dean Grand Ballroom, and an 18,000 square foot Davidson Ballroom. The building includes an art collection featuring local and regional artists, a covered three-level parking garage with 1,800 spaces, and is LEED Gold certified. The Nashville Songwriter's Hall of Fame is also located inside the Music City Center at the corner of 6th Avenue and Demonbreun.