You are here
MUSIC CITY CENTER ANNOUNCES APRIL AND MAY NUMBERS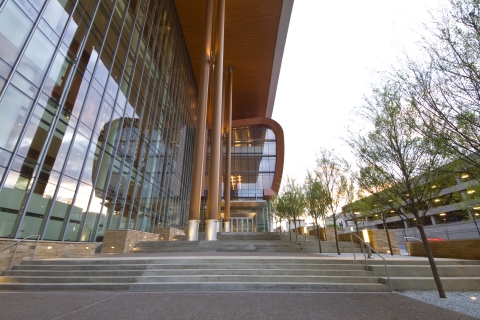 MUSIC CITY CENTER ANNOUNCES APRIL AND MAY NUMBERS
Direct economic impact for April and May exceeds $100 million
FOR IMMEDIATE RELEASE
June 7, 2019
NASHVILLE, Tenn. – The Music City Center announced today that the building generated over $100 million in direct economic impact during the months of April and May 2019.  
For the month of April, the Music City Center hosted 26 events with 59,343 attendees, generating 40,215 total room nights with a direct economic impact of $66,944,141. For the month of May, MCC hosted 31 events with 25,597 attendees, generating 23,700 total room nights with a direct economic impact of $34,669,549. Fiscal year-to-date 244 events have been hosted with an attendance of 416,865 and a direct economic impact of $363,776,359. 
"I am exceptionally pleased with our April results as the Music City Center performed at such a high level, the building was completely full and had no space for any NFL Draft events," said Charles Starks, President/CEO of Music City Center. "We contributed over $66 million dollars during April into the Nashville economy, apart from what the city received from the NFL Draft." 
###
About the Music City Center
The Music City Center, Nashville's convention center, features a 353,143 square foot exhibit hall, the 57,500 square foot Karl F. Dean Grand Ballroom, and an 18,000 square foot Davidson Ballroom. The building includes an art collection featuring local and regional artists, a covered three-level parking garage with 1,800 spaces, and is LEED Gold certified. The Nashville Songwriter's Hall of Fame is also located inside the Music City Center at the corner of 6th Avenue and Demonbreun.