You are here
MUSIC CITY CENTER ANNOUNCES 2021 DBE VENDOR OF EXCELLENCE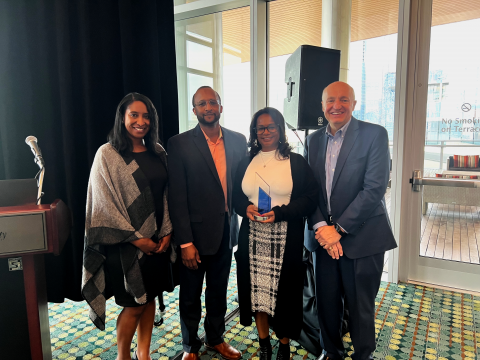 NASHVILLE, Tenn. – Music City Center President & CEO Charles Starks announced M&P Services, Inc. as the 2021 Diverse Business Enterprise Vendor of Excellence at the annual MCC Purchasing/DBE Appreciation Breakfast held Thursday, December 16.
MCC supports small, minority-owned, women-owned, and service-disabled veteran-owned businesses through its DBE program. The annual appreciation breakfast is an opportunity to reflect on the previous year and preview the upcoming year, while thanking the facility's contracted DBE vendors and suppliers for their trusted partnerships.
"We look forward to this event every year," said Starks. "Music City Center is proud to partner with diverse businesses in our community, because when they're successful, we're successful."
The Vendor of Excellence designation is awarded to a DBE business partner who displays outstanding achievements in service and commitment to MCC. M&P Services, Inc. is a locally owned and operated general construction company, offering full-service facility maintenance, janitorial, home remodeling, and construction management services. Owners Maurice and Princella Ridley accepted the award on Thursday.
"M&P Services, Inc. is extremely deserving of this award," Starks said. "They have served us well, even during the pandemic, and we're excited to continue working with them."
Despite the challenges faced by MCC during the pandemic, a total of 15 small, minority-owned, women-owned, and service-disabled veteran businesses participated in the DBE program in fiscal year 2021.
For more information on the MCC Diverse Business Enterprise program, visit the MCC website at www.nashvillemcc.com/about/business-opportunities or contact MCC Purchasing/DBE Director Jasmine Quattlebaum at Jasmine.Quattlebaum@nashvillemcc.com or (615) 401-1445.
About the Music City Center
Located in the heart of downtown Nashville, Music City Center (MCC) is a 2.1 million square foot convention center with more than 353,000 square feet of exhibit hall space, two ballrooms, 55 meeting rooms, and a covered parking garage with 1,800 spaces. The mission of MCC is to create significant economic benefit for the greater Nashville area, while focusing on community inclusion, sustainability, and exceptional customer service, through conventions, trade shows, and community events.
###