You are here
CONVENTION CENTER AUTHORITY APPROVES NCC REDEVELOPMENT PLAN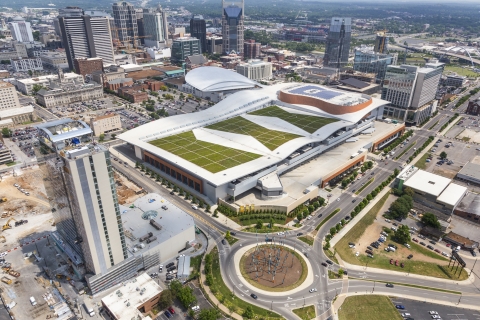 CONVENTION CENTER AUTHORITY APPROVES NCC REDEVELOPMENT PLAN
FOR IMMEDIATE RELEASE
November 9, 2016
NASHVILLE, Tenn. – The Convention Center Authority voted unanimously this afternoon to approve the development agreement for the Nashville Convention Center redevelopment and parking garage lease agreement with developers OliverMcMillan and Spectrum | Emery. 
As a part of the agreement, the Convention Center Authority reaffirmed and finalized its commitment to build a 781-space underground parking garage for the new development. The construction of the parking garage will require a DBE commitment of no less than 20 percent.
"We are excited to move forward with the redevelopment of the Nashville Convention Center and feel that the plan in place will be a welcome addition to downtown, adding much-needed retail and entertainment space," said Charles Starks, President/CEO of the Music City Center. "The positive economic impact this redevelopment will have on Nashville will be tremendous, not to mention the addition of the National Museum of African American Music which will bring even more citizens and visitors to downtown."
The Music City Center hosted 37 events with 26,642 attendees in October, generating 15,091 room nights for a total of $11.6 million in economic impact. Tax collections continue to outperform expectations, and the Music City Center portion of tax collections was up 13.76 percent year over year for August 2016.
###
About the Music City Center
The Music City Center, Nashville's convention center, features a 353,143 square foot exhibit hall, the 57,500 square foot Karl F. Dean Grand Ballroom, and an 18,000 square foot Davidson Ballroom. The building includes an art collection featuring local and regional artists, a covered three-level parking garage with 1,800 spaces, and is LEED Gold certified. The Nashville Songwriter's Hall of Fame is also located inside the Music City Center at the corner of 6th Avenue and Demonbreun.