You are here
CONVENTION CENTER AUTHORITY APPROVES LAND ACQUISITION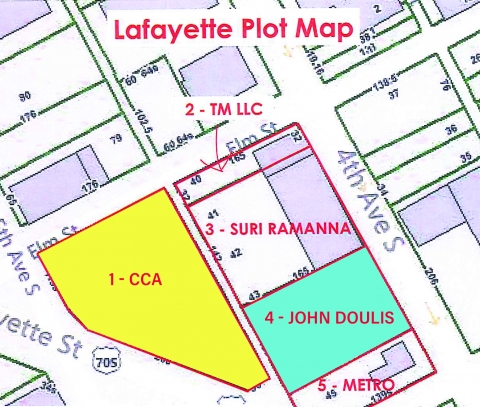 CONVENTION CENTER AUTHORITY APPROVES LAND ACQUISITION
FOR IMMEDIATE RELEASE
July 31, 2018
NASHVILLE, Tenn. – The Convention Center Authority voted this morning to purchase a nearby plot of land located at 719 4th Avenue South for $3.85 million.
The .45-acre lot, adjacent to a parcel of land previously purchased, increases the Authority's property in the area to 1.17 acres total. The Convention Center Authority plans to initially use the property as a marshalling yard and for additional parking.
"The Authority is always exploring opportunities that are in the best interest of the Music City Center and the city of Nashville, and expanding our footprint at this location made a lot of sense," said Charles Starks, President/CEO of Music City Center. "We have an immediate need for additional marshalling and parking space, and in the long term MTA may have an interest in the property for a transit center, so we see it as a win-win."
The Convention Center Authority also announced that the Music City Center generated over $74 million in direct economic impact for the city in June. The Music City Center hosted 18 events with 82,455 attendees last month, generating 104,650 room nights for a total of $74.9 million in direct economic impact.
###
About the Music City Center
The Music City Center, Nashville's convention center, features a 353,143 square foot exhibit hall, the 57,500 square foot Karl F. Dean Grand Ballroom, and an 18,000 square foot Davidson Ballroom. The building includes an art collection featuring local and regional artists, a covered three-level parking garage with 1,800 spaces, and is LEED Gold certified. The Nashville Songwriter's Hall of Fame is also located inside the Music City Center at the corner of 6th Avenue and Demonbreun.