You are here
CONVENTION CENTER AUTHORITY APPROVES FISCAL YEAR 2019 BUDGET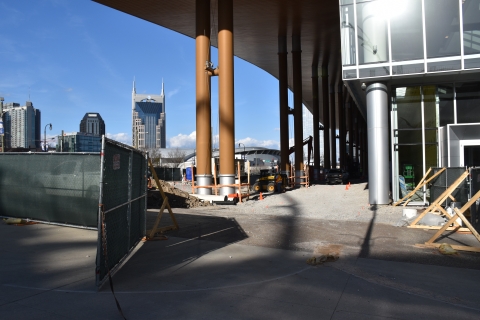 CONVENTION CENTER AUTHORITY APPROVES FISCAL YEAR 2019 BUDGET
FOR IMMEDIATE RELEASE
March 1, 2018
NASHVILLE, Tenn. – The Convention Center Authority voted unanimously this morning to approve the 2019 fiscal year budget to fund the Music City Center's operations and capital improvement projects. The FY 2019 budget anticipates the Music City Center will once again generate an operating profit. The budget also allocates $1.35 million for capital improvements.
"The Authority is always exploring opportunities to invest in our future with capital improvements that will enhance the customer experience and expand sales efforts," said Charles Starks, President/CEO of Music City Center. "With our future bookings at an all-time high, it's incredibly important that we continue to invest in our vision and prepare for the coming years."
The Convention Center Authority also announced that the Music City Center generated over $30 million in direct economic impact for the city in the first two months of 2018. Tax collections continue to outperform expectations, and the Music City Center portion of tax collections was up 38.55 percent year over year for December, with total year-to-date tax collections up 13.85 percent over fiscal year 2017. 
###
About the Music City Center
The Music City Center, Nashville's convention center, features a 353,143 square foot exhibit hall, the 57,500 square foot Karl F. Dean Grand Ballroom, and an 18,000 square foot Davidson Ballroom. The building includes an art collection featuring local and regional artists, a covered three-level parking garage with 1,800 spaces, and is LEED Gold certified. The Nashville Songwriter's Hall of Fame is also located inside the Music City Center at the corner of 6th Avenue and Demonbreun.